Past perfect
Introduction
We use the past perfect to describe:
actions that finished before another past action or event
facts or experiences that were true before a past action or event.
Examples:
They had taken many French lessons by the time they moved to France.
They went to France in the past. They took French lessons before that.



I hadn't eaten Mexican food before I went to Mexico last August.
I ate Mexican food for the first time when I went to Mexico in August last year.


Form
We form the past perfect with "had" + past participle:
positive
I / You / We / They
He / She / It
'd
had
been
there before.
negative
hadn't
had not
question
Had
I / you / we / they
he / she / it
been
there before?
Examples
I had been to Thailand twice before I got a job there.
I got a job in Thailand in the past. I went to Thailand twice before that.

He hadn't heard Mozart's music when he bought the tickets for the concert.
He didn't hear music by Mozart before buying the tickets for the concert.

Had they read the book before they saw the film?
They saw the film in the past. Did they read the book before that?
---
Practice
Complete the sentences with the past perfect positive, negative or question form of the verb in brackets:
Further practice
Complete the sentences with the correct answer from a, b, c or d:
We ____ to go to China for many years before we went last summer.






She ____ him for many years before they got married.






They didn't buy a map because they ____ there many times before.






____ the ending of the film before it finished?






She hadn't ____ any French before she went to France.






____ before the meeting started?


Check my answers
Further language point
We use the past perfect with "ever" / "never" to describe the subject's experience at a time in the past (we use the
present perfect
to describe the subject's experience including up to the present):
positive
I / You / We / They / She / He / It
'd
had
never
been
to Italy.
negative
hadn't
had not
ever
| | | | | | |
| --- | --- | --- | --- | --- | --- |
| question | Had | I / you / we / they / she / he / it | ever | been | to Italy? |
---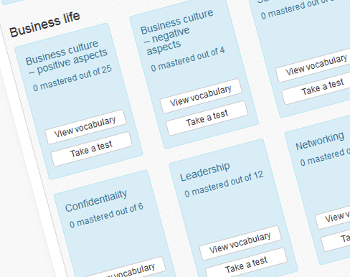 Talking about people
Talking about places
The environment
At home
Making plans
Travel
Transport
Sport
Music
Media
Government
Technology
Space
Shopping
Dining
Describing things
Numbers
Subscription content
Business communication
Business life
Business risk
Financial results
Business structure and funding
Mergers and acquisitions
Strategy
Negotiations
Human resources
Sales
---
Create an account
Access by account type:
| | Getting Started |
| --- | --- |
| | Free |
| | Create account |
| General vocabulary trainer – save your score, access audio files | |
| Business vocabulary trainer (includes audio files) | |
| Idiom trainer | |
| Grammar test - save your score | |
| Video lessons - 4 lessons including English for emails and presentations | |
| Video lessons - 10 additional video lessons including English for finance, strategy, M&A, job interviews | |
| Dictation - general English exercises | |
| Dictation - business English exercises | |
Getting Started
Free
Create account
General vocabulary trainer – save your score, access audio files
Business vocabulary trainer (includes audio files)
Idiom trainer
Grammar trainer - save your score
Video lessons - 4 lessons including English for emails and presentations
Video lessons - 10 additional video lessons including English for finance, strategy, M&A, job interviews
Dictation - general English exercises
Dictation - business English exercises